Office 365 Login
Access your Office 365 online applications by logging into Outlook on the web with a combination of your CULoginName@colorado.edu and IdentiKey password.
Only CULoginName@colorado.edu will work for accessing Office 365 applications, not the common preferred email address format of first.last@colorado.edu (as shown below).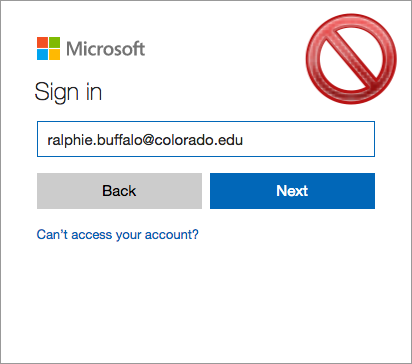 Email
Outlook on the web provides easy and efficient access to email. Visit Microsoft's Get to Know Outlook on the web page to learn about basic operations, and refer to the following tutorials for more information about Outlook features.  
Email tutorials
Calendars
Calendars in the Outlook on the web have many useful features that integrate with other Office 365 products. Refer to the following list of tutorials for more information.
Calendar tutorials
Best Practices
OIT has put together some suggestions for Best Practices while using Outlook. These are not required actions, but tips for getting the most out of Exchange Online. Visit the Exchange Online Calendaring Best Practices page for more.