With Zoom becoming more widely used on campus and worldwide there is also a need to make meetings more secure for hosts and participants. Zoom offers several options to increase the security and privacy of Zoom sessions. Use this guide to help make your meetings secure. 
New: Meeting Security Tab
A new feature available during Zoom meetings will help you manage attendees easily from one tab. Click Security during a meeting to see options for managing attendees including: lock meeting, turn on waiting rooms, remove a participant, and attendee abilities including screen sharing, chat, renaming and annotations.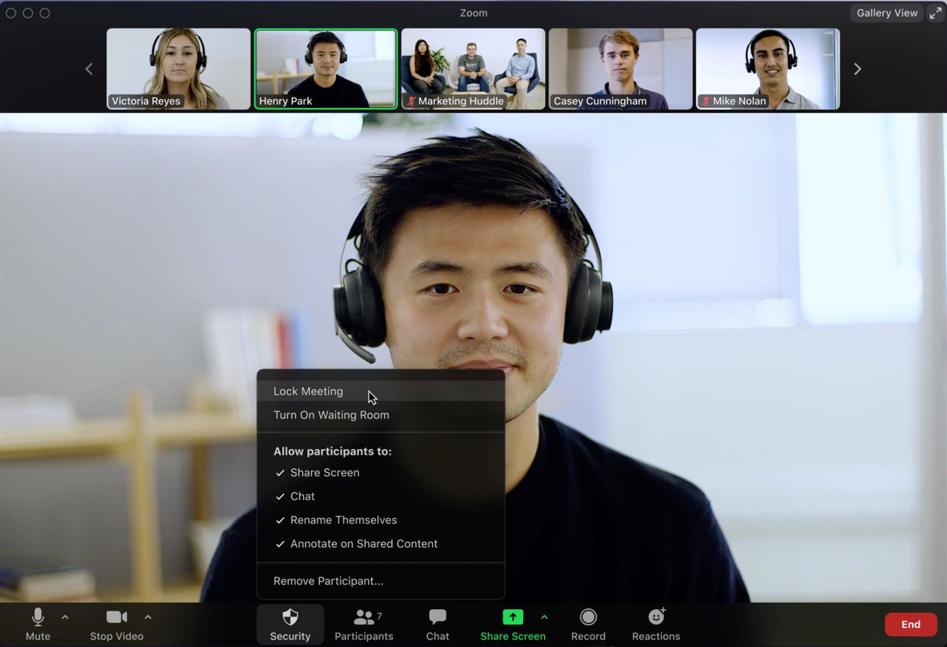 Please note: This feature is only available on Zoom version 4.6.10 and above. Visit Zoom's download center or open your desktop application, navigate to your initials in the top right corner, and select Check for Updates to ensure you have the most recent version of the software.
Planning Secure Meetings
Managing Attendees During a Meeting
Add an Alternate Host
Having a trusted co-host in your meeting can help you manage and remove attendees or take over the presentation if you're unable to attend.
Lock Meetings
Locking a meeting after all attendees have arrived prevents others from joining mid-session.
Open the participants list once all attendees have joined
Select More
Select Lock meeting
Remove, Stop Video, Put on Hold
Hosts have the ability to remove attendees, stop the video of an attendee, or put an attendee on hold. Be sure to enable the put on hold option before your meeting.
Select Manage Participants in the host control bar
Hover over the attendee's name in the list
Select More
Select the appropriate option, including Remove, Stop Video, or Put on hold
Limit Screen Sharing
Hosts can remove attendees ability to screen share during a meeting.
During the meeting, open the Screen Sharing pop up menu
Select Advanced Sharing Options
Under Who can share? Select Only Host
Additional Zoom Security Resources