What are Remote-Capable Classrooms?
The Remote-Capable Classroom (RCC) Service is a hybrid teaching model which allows for synchronous (real-time) and asynchronous (on-demand) lecture and presentation delivery. The RCC Service provides instructors with a simple technology solution, a Crestron Mercury X system, that enables the simultaneous delivery of lectures to students that are physically in the classroom as well as students working remotely.
Features
Remote-Capable Classrooms are equipped with a simple AV control panel interface that includes a built-in microphone and speaker, an overhead-mounted video camera, a universal video adapter, and a network cable. Connect your computer to use any or all of these features while you teach.
All Remote-Capable Classrooms are equipped with the following features: 
Simultaneous in-room and remote lectures and presentations
Microphone and speaker conveniently located on board the AV controller unit
Physical network connectivity enabling a more stable, higher-quality learning experience
A universal adapter compatible with a wide range of video technologies (includes an ethernet port)
Adjustable camera (can be set to a static location or configured to follow the presenter) 
Quick Start Guide for quick reference
Please Note: OIT highly recommends plugging your device into the physical network for the highest quality video connection achievable.
Cost
There is no direct additional cost associated with the use of the RCC Service and associated equipment.
Who can get it
The RCC Service is available to Faculty on the CU Boulder campus in rooms equipped with a Crestron Mercury X system.
The Crestron Mercury X systems were purchased to support remote/hybrid instruction in centrally scheduled classrooms on campus. This decision was made to ensure the efficient use of academic spaces and associated technologies. This includes previously departmentally owned spaces that are currently being scheduled by Academic Scheduling.
Get started with RCC
OIT is actively installing Crestron Mercury X systems in centrally scheduled classrooms and select departmental spaces. All Remote-Capable Classrooms will be listed on the Hybrid-Capable Classrooms List as they are confirmed and installed. Use the following resources to get started using this technology.
Connect your Device
Connect the HDMI, USB, and network cables to your device via ports on your computer or using an adapter. (Please note: Rooms that have the Crestron unit on a cart require turning on the AV panel in the room before connecting. See the quick start guides below for more.)
On the AV Control Panel, select HDMI to start the projector display.
Start your video conferencing application (e.g. Zoom).
Select the Crestron microphone and speaker options, and select Huddly IQ from the video options.
For detailed, step-by-step instructions, use the Quick Start Guides below to help connect to RCC technology. These instructions will also be posted in rooms equipped with RCC technology.
Adjust the Huddly Camera
Download and install Huddly IQ before using an RCC if you would like to operate the camera during instruction. If you're a DDS customer, download from the Self Service Software application on your device. Otherwise, download from Huddly.
When in a classroom, open the Huddly IQ app on your computer.
Manually adjust the camera field of view using click and drag or the arrow keys on your keyboard.
When Auto mode is selected, the camera detects people in a wide-angle field of view and automatically frames them (please note: there is a 5-7 second delay in camera movement).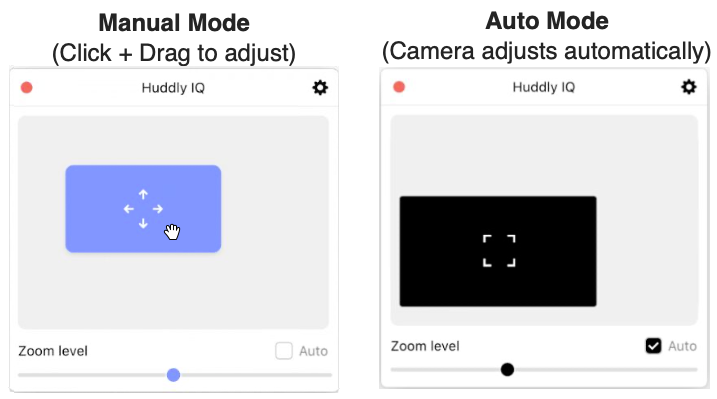 Video Tutorials
OIT has recorded several videos that demonstrate how to connect your laptop to a Crestron Mercury X in a Remote-Capable Classroom, while also seeing an example of the RCC service in action. Click the thumbnail photos below to watch each video.
Support
Learn how to connect and use RCC: visit the Academic Technology Trainings page to watch OIT's RCC training on-demand.
Visit the RCC FAQ for additional information and help.
If you're in an OIT-supported classroom and have an issue with technology, submit the Classroom Technology Problem Reporting form.
Request a Technology Copilot or Technology Copilot training for assistance in using teaching technologies and facilitating remote students' participation in RCC rooms.
Contact the IT Service Center at 303-735-4357 or oithelp@colorado.edu to request assistance.
RCC Service equipment installed in departmental spaces will receive the same level of support as centrally scheduled spaces. Please follow the same process to request assistance or troubleshooting in departmental Remote-Capable Classrooms.
Learning Spaces Technology
OIT's Learning Spaces Technology team provides support for Remote-Capable Classrooms, as well as defining, revisiting, and revising technology standards for teaching and learning spaces. LST also supports: