How do I log into my Google Workspace account?
To access Google Workspace you must use a combination of your IdentiKeyUsername@colorado.edu and IdentiKey password at https://accounts.google.com/ or any core Google Workspace login page.
Although Google asks for your "Email", the system cannot support the use of your first.last@colorado.edu as a username. Instead, use your Identikey username (e.g. buff1234 @colorado.edu) to log into the service. Once you are in the system you can use your preferred email address (usually first.last @colorado.edu) to share resources.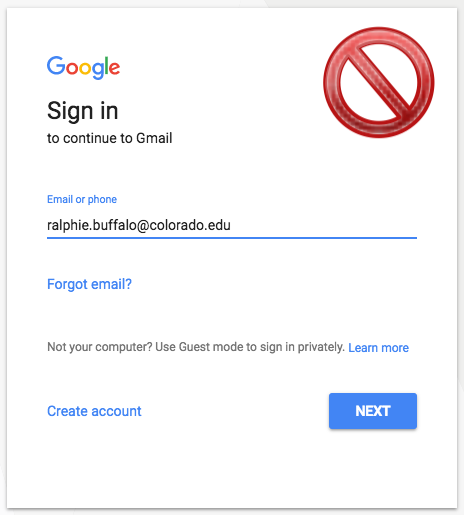 *Note: If you have separate Google Account logged in, you may need to click the Choose Account arrow icon, in order to sign in with your @colorado.edu account.
What core applications do I receive?
Faculty, Staff, Students, and Persons of interest all receive the following Google Workspace applications:
Note: Email accounts for faculty and staff default to Microsoft Exchange.
Additional Applications
In addition to the core applications mentioned above, CU Boulder has enabled many other applications that are not considered "core" by Google. For a descriptions and help information for all campus enabled applications please visit the Google Application Descriptions page.
*Note: Not all Google provided applications are enabled on the CU Boulder campus, due to a variety of factors. For more information on these factors, please visit the Enabling Google Applications for CU Boulder page.
Help Information
Google Provided
For information on the core applications, visit the following web pages:
OIT Provided
Google Workspace Accessibility
CU Boulder is committed to providing help information and assistance with campus services for all users, including those with accessibility concerns. Google Workspace accessibility considerations, information for content creators, information for content consumers, alternatives/workarounds, and more can be found on the Google Workspace Accessibility page.
Benefits
Collaboration: Apps like Groups, Chat, Drive and Sites makes online collaboration more effective.
Everyone on our campus will have a Google account tied to their IdentiKey account; no more guessing if the person on the other end has compatible programs to view, comment and edit documents.
Cost
There is no direct cost for Google Workspace.
Who can get it
How to get it
The core applications that you receive depends on your affiliation (see table above)