What is it?
Qualtrics Offline Surveys is an application available for iOS and Android that allows you to administer surveys on your mobile device without an Internet connection. Responses can be collected in the field on your mobile device, and then uploaded back into Qualtrics as soon as you have an Internet connection. This app is available for iPad, iPhone, and Android tablets and smartphones running Android 4.0 and later.
How to get it
You can download the Qualtrics Offline Surveys app to your device at the following locations:
After downloading the Qualtrics Survey App, please refer to the Offline Survey Application Setup for step-by-step instructions on how to set up the app to work with your CU Qualtrics credentials. For more information and troubleshooting information about the app, visit the Set Up Instructions on the Qualtrics Support website.
Who can get it
The Qualtrics Offline Surveys Application is available to all CU Boulder affiliates with an active IdentiKey.
Training 
New to the Qualtrics Offline Surveys Application? Need a little refresher? Learn how to download and use the Offline Surveys Application to collect data unrestricted by an internet connection.
Webinars
Qualtrics offers a series of On-Demand Webinars available at your convenience. To develop your understanding of the Qualtrics Offline Surveys Application, OIT recommends taking the Offline App webinar.
Use our Access Qualtrics Training Webinars tutorial to learn how to log in to basecamp and access on-demand webinars.
Security Considerations
To help ensure that the data you collect remains secure, please:
Refrain from using jail broken or rooted devices.
Secure your devices to prevent unauthorized access when left unattended.
Enable 4 digit pin authentication on the device, and an inactivity timeout of not more than 15 minutes.  
In the event of a lost or stolen device, provide notification to the Campus IT Service Center within 48 hours.
Configure the device for remote location and erase services (i.e., Find My Phone app) to locate or erase the device if lost or stolen
Data stored on the device should be properly purged of all university information before the device is disposed of, donated, or an employee/student relationship is terminated with the university.
Support
Support for the Qualtrics Offline Survey Application is provided by the vendor. To access extensive online training materials, to receive technical support, make a feature request, or provide feedback please contact Qualtrics Support through the Qualtrics Support Center and login using the CU Boulder Organizational ID (select login with SSO and enter "cuboulder" as the Organization ID.)
When logged into Qualtrics, click Help and login (enter "cuboulder" as the Organization ID.)
Search for help tutorials directly through Qualtrics Support.
Call the Qualtrics Support Center at 1-800-340-9194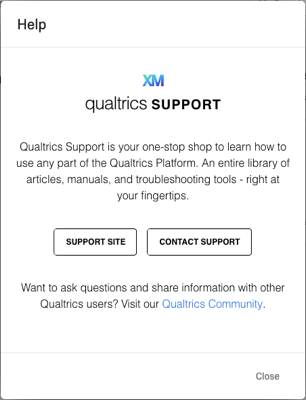 To learn how to use the Offline app, visit Qualtrics Support.