Overview
Zoom is a web conferencing tool that unifies cloud video conferencing, online meetings, and collaboration into one platform. Zoom's extensive features, compatibility with desktop or mobile devices, and multi-layered security enable rich web conferencing experiences for campus and unaffiliated users at CU Boulder.

Security
Want to learn more about how to secure your Zoom meetings? Visit the Meeting Security section of our help page and use OIT's Secure Meetings Guide to plan and prepare for more secure meetings.
Zoom Training Resources
Features
Cloud Video Conferencing
Online Meetings for up to 300 participants
Telephone Dial-in
Mobile Collaboration

Cloud Recording with automatic transcriptions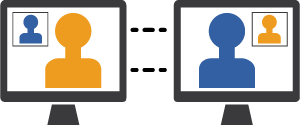 Additional Licensing
In some cases, regular Zoom meetings may not meet your needs. Webinars and Large meetings both have higher capacity and different features. Learn more about each to determine if you need either:
Webinar
Webinar attendees are limited in the way they interact to chat, responding to polls, and using the "raise hand" feature. Webinar attendees are unable to see other participants (e.g. students cannot see other attendees during a lecture, but can interact with instructor). Webinars have an increased capacity of 1000 attendees.
Large Meeting
A Large Meeting has the same features as a standard Zoom meeting, allowing participants to have access to all available tools such as breakout rooms, screen sharing, interaction with others in the meeting and more, but with additional capacity for up to 500 participants.
If you believe you need a webinar or large meeting license, please submit the Large Meeting or Webinar License Request.
Get Started
Actively affiliated faculty and staff, and students who are currently enrolled in classes have access to a Zoom Pro account.
Click Sign In with SSO
Enter "cuboulder" and click continue
A browser window will open prompting you for your Federated Identity Service identikey and password credentials. Click Continue.
This will automatically create your account and log you in.
Please note: Zoom Pro accounts not logged in within one year or those no longer affiliated with CU Boulder will be removed on a routine basis. When logging back in, you will regain access to Zoom Pro functionality automatically.
*Find more detailed documentation and help resources on the Zoom Help and Zoom FAQ pages.
Cloud Recording Retention Policy
Starting January 31, 2021, all recordings saved to the Zoom cloud that are older than 120 days will be deleted. From that day forward, recordings will only be retained for 120 days from the date of recording. OIT strongly recommends routine review and archiving of Zoom recordings to make sure you keep what you need. Learn how to run a report to view your recordings over a period of time. Please note that once content has been removed it can not be recovered.
OIT recommends users take personal responsibility for routine archiving of content. Once content has been removed it can not be recovered. File storage options supported by OIT include UCB Files, Google Drive and Microsoft OneDrive. For more information on downloading cloud recordings, please refer to Zoom's Managing Cloud Recordings information.
Third party applications
We have received numerous requests to integrate third party applications with Zoom. During the COVID-19 crisis, we will not be exploring new third party integrations. OIT is focusing support efforts to ensure new and existing users have the basic knowledge and training needed to conduct remote teaching via the core Zoom feature set. We apologize for the inconvenience and thank you for your patience while we navigate these unprecedented times.
Cost
Zoom web conferencing is provided at no cost to CU Boulder affiliates.
Who can get it
Actively affiliated faculty and staff, and students who are currently enrolled in classes have access to a Zoom Pro account. Zoom Pro accounts will be automatically provisioned the first time you login using SSO through the Zoom application. For installation help, use the Zoom - Download and Login tutorial.