There are two types of "external to CU Boulder" users in Microsoft Teams: 
Guest Users
Guest users are people outside of CU Boulder who have been invited to a Team in our organization. When a guest user is invited, a guest account is created in CU Boulder's Microsoft 365 instance. Guest users need to be signed in to CU Boulder's Microsoft 365 instance in order to be notified of activity in Teams, otherwise they will receive missed activity emails.
When to use: If a CU Boulder user needs to invite a guest user to participate in team conversations, meetings, and document creation and access other resources in specific Team channels.
How to use:
External Users
External users are users outside of CU Boulder who have a Microsoft 365 or other Microsoft account. You can search for user by email address in the Teams directory and participate in 1:1 chats, calls or schedule a Teams meeting.
When to use: If a CU Boulder user needs to have a 1:1 chat, audio or video call, or schedule a meeting with an external Microsoft 365 user, but does not need to invite them into a Team channel. 
How to use:
Guest User View in Teams
When you are invited to be a guest user in another organization, you will see the organization picker in the top right corner of the Teams client or Teams on web. The picker will list all organizations to which you have been invited as a Guest user.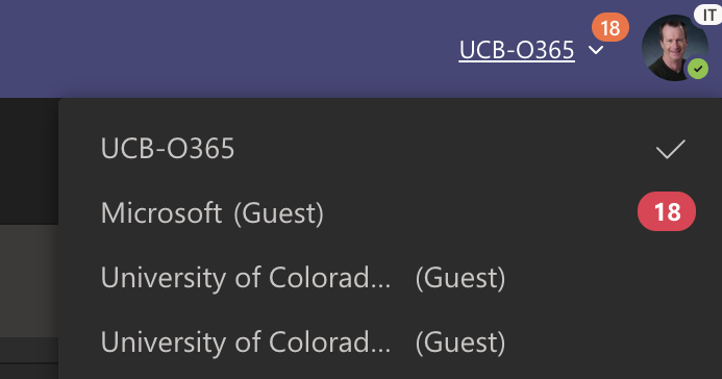 Start a chat with an External User
Start a new chat and enter the external Microsoft 365 user's email address. You will see an option to "search externally" for the user. Once the user is found, you will be able to chat, call and see the external user's availability (presence) information.
Why do I see two entries for a colleague outside of CU Boulder?
You may see two entries for a user who you've chatted with and that has also been invited into a team at CU Boulder as a Guest. Microsoft Teams delineates between the two using (External) and (Guest):
In most cases, choosing the (External) user is the best way to chat or call with that user, since it is unlikely a Guest user will always be signed into the CU Boulder team. 
The Guest user option is better if  the guest needs to participate in team meetings, document sharing and extended multi-person team channel conversations.