About
Buff Portal is CU Boulder's online student portal that replaced the student tab in MyCUInfo on December 30, 2019. Buff Portal was developed by the Unified Student Experience (USE) project, a campus-wide project that is working to unify the online and in-person CU Boulder student experience. Its goal is to transform today's fragmented digital and physical student support landscape by creating a seamless experience for students.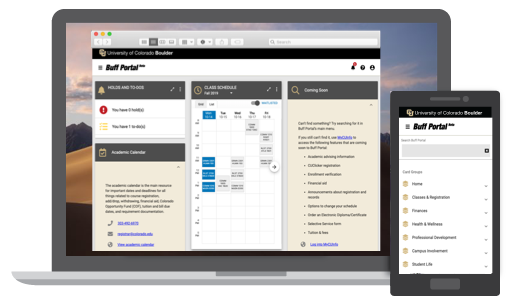 Why Buff Portal?
Buff Portal was designed and developed on campus in close partnership with students and campus offices, replacing the MyCUInfo experience for students at the end of 2019. For some time, students reported issues with MyCUInfo, including a confusing and cluttered layout, difficulty finding what they were looking for, and a poor mobile experience. By developing our own portal at CU Boulder and following a student-centered design process, we are able to continually improve and tailor Buff Portal to meet student wants and needs.
Who can use Buff Portal?
Buff Portal is available to all CU Boulder students and most alumni.
Access Buff Portal
  Buff Portal is a mobile-friendly platform. Open a browser on your phone or tablet and log in to check it out!
Help & Support
For support, including technology troubleshooting, contact the IT Service Center at 303-735-4357 or oithelp@colorado.edu. For additional assistance, visit Buff Portal Help.
Accessibility
CU Boulder is committed to providing help, information, and assistance with campus services for all users, including those with accessibility concerns. Accessibility considerations can be found at Buff Portal Accessibility.