About Kubi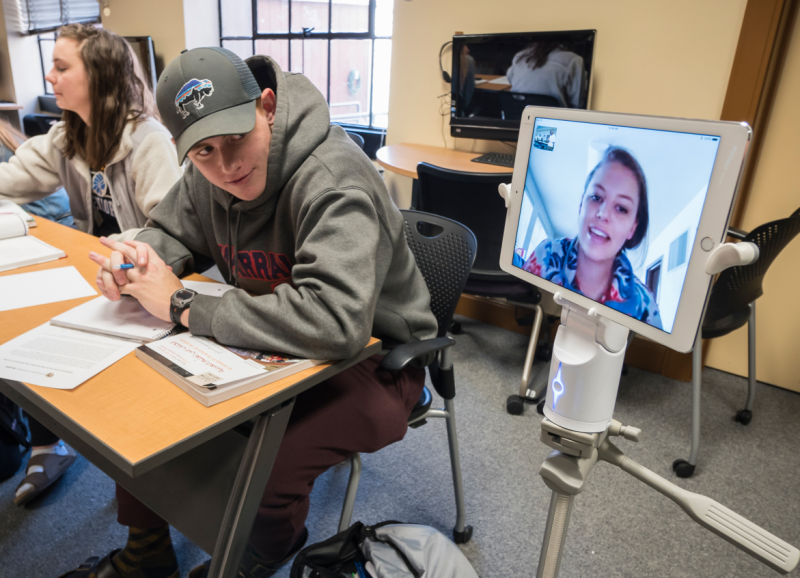 Kubi is a robotic "neck" that holds a tablet and allows a remote user to control the tablet through a Zoom web conference meeting. From their own computer, the remote student can see, hear, and speak with their instructor and classmates using the tablet's camera and microphone. The Kubi allows the remote student to take charge of their experience by moving the tablet 320 degrees side-to-side and 90 degrees up and down.
Kubi Features
Allows remote students to actively participate in classroom activities and engage with their peers and instructors
Provides remote students a physical presence in the classroom
Suitable for synchronous remote attendance
Can be controlled remotely from most computers and laptops
Easy to set up
Can be implemented in a variety of situations in addition to remote classroom attendance
Who can get it
There are a limited number of Kubis available to campus. CU Boulder students can request to use Kubi to attend face-to-face classes if they are unable to physically attend classes due to injury or illness (or similar circumstances).
Student Use Cases

Jessica, a sophomore political science major, used Kubi to attend her second-semester Arabic class for four weeks while recovering from surgery for a sports-related injury. Initially, Jessica was concerned that she would have to withdraw from her classes that semester and would not be able to resume her language classes until the fall. This would have put her at risk of losing her Arabic language skills. Through the support of the academic department and her instructor, Jessica used Kubi to actively participate in this immersive language class. When Jessica needed another surgery the following semester, she was again able to continue her language learning using Kubi.

Without the Kubi, I would have been unable to attend class every day, which would have left me significantly behind in the course. It was my hope to stay on track with the language and not fall behind, and the Kubi made that possible.

 

Orlando, a third-year business major, required medical treatment during the first six weeks of the semester and could not be on campus during this time. He used Kubi to remotely participate in three classes with the support of his instructors, a departmental technology partner, and a fellow classmate who served as a "Kubi Buddy," delivering the technology and troubleshooting as needed. After learning that he wouldn't be able to return to campus for the entire semester, Orlando was able to continue using Kubi to attend his classes.

I was not a distraction to [my classmates], as I could move myself and position myself to see either the board or my professor as she moved around the room. All in all, my experience using the Kubi was very helpful throughout the time that I needed it, as it allowed me to be present in class and stay on track with my studies.

 

Katie, a sociology major, attended numerous classes via Kubi while recovering from invasive surgery. Two of Katie's large lecture courses used classroom capture which meant she could view these classes remotely. However, the remainder of her classes, particularly her recitations, required her active participation. Katie was able to continue engaging with these classes using Kubi.

Thank you so much! This program has allowed me to stay on top of my work and really decreased my stress. I was a bit nervous the faculty might be hesitant about this technology, but I'm glad everyone has responded so positively!

 

*Student names and identifying information have been changed.
Help & Support
For support, including technology troubleshooting and requesting training, contact the IT Service Center at 303-735-4357 or oithelp@colorado.edu. For additional assistance, visit Kubi Instructions and Tips and Kubi Help & Troubleshooting.