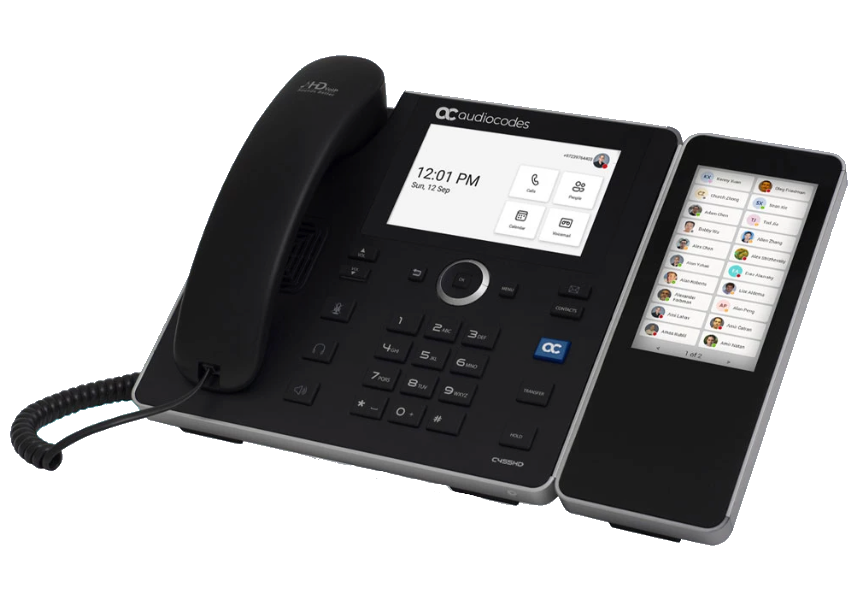 Make a call
Pick up the handset, enter the phone number, and press the Call button.
If you do not press the softkey, the number will automatically be dialed after 3 seconds.
To call a phone contact, press the Contacts button and select your contact.
Please Note: Softkeys are the four unlabeled buttons directly underneath the screen. The functions change based on the screen you are currently on, with the label changing as necessary. For example, in the screenshot above, the key on the far right is labeled DnD which when pressed will enable the Do not disturb phone function. 
Redial a number
From the home screen, select the phone softkey on the far left.
Select recent.
Choose the number to redial.
Put a call on hold and make another call
Press the Hold button and then the Back arrow button.
If you want to call a contact, press the Contact button. Otherwise, dial desired number.
To return to the held call, press the Hold button again, or tap their name on the top of the screen.
Transfer a call
Press the Transfer button and enter the number of the person you are transferring the call to. You can also search to select a contact.
After the number is selected, click the call icon and the call will be transferred.
To automatically forward calls to another number 
Tap the home softkey to get to the home screen.
Tap the profile icon on the top right of the screen next to the phone number.
Click on Settings, then Calling.
Turn on call forwarding.
Select Forward To.
Select Contact or Number then New Contact or Number.
Select number you want calls to be forwarded to.
To deactivate call forwarding, toggle call forwarding off in settings.
Please Note: if you have delegates, use the toggle on button to turn delegates back on.
To make a 3-way conference call
1.    Call the first participant.
2.    Click the icon on the top right of the screen below the time.
3.    Tap Add People.
4.    Select contact or type in a number and click the check mark on the top right of the screen.
How to Program Autodial buttons:
Contact the IT Service Center at oithelp@colorado.edu. Please provide your campus extension number and the numbers you would like programmed.