Download & Install 
For DDS Managed Devices
If your device is managed by Dedicated Desktop Support, download the Adobe Acrobat Pro DC from the software application on your computer.
Open the Software Center (Windows) or Self Service (Mac) app on your computer and search for "Adobe Acrobat Pro DC"
After installation, open Adobe Acrobat Pro DC.
If prompted, sign in using your IdentiKey and password
Non-Managed Devices
If your device is not managed by Dedicated Desktop Support, download Adobe Acrobat Pro DC directly from Adobe. Please note: Installation of the Adobe CC desktop app requires administrative privileges. Contact your IT support staff if you need assistance.
Go to Adobe's website to download Acrobat Pro DC
Sign in using your IdentiKey and password
Once downloaded, open Adobe Acrobat Pro DC
Once installed, software will not require administrative privileges to use
Log in to your Adobe Account
On the Adobe log in screen, enter your CU Boulder email address (in the identikey@colorado.edu format, pictured left) and click continue.
You'll be redirected to the the Federated Identity Service where you can log in with your IdentiKey Login Name and password.
Going forward, your IdentiKey will serve as your Adobe ID.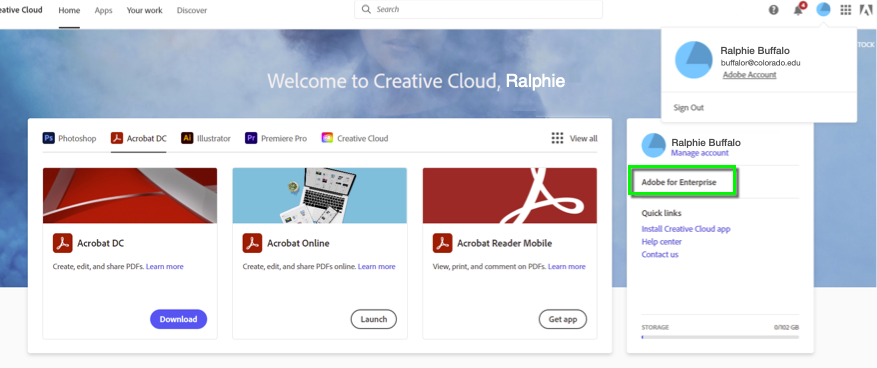 After logging in, confirm you set up your Adobe account through CU Boulder. You should see Adobe for Enterprise on your account information. If you don't see this, please log out and try again using our directions, or email oithelp@colorado.edu for assistance.
Migrating Adobe digital assets
For assistance migrating content from a previous account instance, use Adobe's Migrate your content from Adobe ID account to your new enterprise account documentation. Please note: If you select "No, I want to move my content manually later," you will not be prompted again. To move your content manually later, see Adobe's Migrate Assets Transfer page.
Computer Labs
If you manage a computer lab, classroom, or other multi-user device, email oithelp@colorado.edu to find out how you can provide this software.
Additional Help