Features
Turnitin plagiarism detection enables you to identify potential cases of plagiarism by automatically comparing student submissions to an online database of original content. You can then view Originality Reports which highlight key areas, show a breakdown of matching sources, and provide direct links to the matching content.
Originality Report
Ranges:
Blue: >= 0 and < 20%
Green: >= 20 and < 40%
Yellow: >= 40 and < 60%
Orange: >= 60 and < 80%
Red: >= 80 and <= 100%
Many instructors use 15% as a baseline, choosing to review papers over this percentage more thoroughly.
Turnitin provides a direct link to Internet sources and publications within the Originality Report so that you can complete a side-by-side comparison yourself.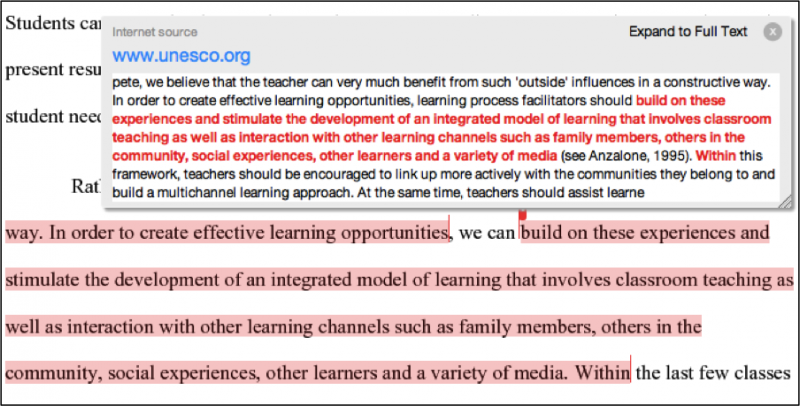 General Information
If the student's paper matches the paper of a student outside of your course or institution, you can request permission to view the paper from the other instructor directly. This feature was added in order to protect the intellectual property of the author, instructor and the institution.
Besides offering clues as to whether a student has plagiarized or not, reviewing a student's originality report can also help you to determine when a student has over cited or quoted or cited incorrectly. You can also choose to exclude quoted material or the reference list.  
Using Turnitin should be one part of a multipronged approach to preventing plagiarism in your course. To further assist students:
Allow them to revise their papers based on their Originality Report before the due date so that they can add references, paraphrase or correctly quote sources.  
Add the Honor Code statement to your syllabus. Review it with students the first day of class.
Point students to writing support available both on campus and off
Provide students with a one-page example of the most commonly used reference formats in your discipline and in-text citation guidance
Make the writing style guide a required text
Help Resources & Webinars 
Turnitin Accessibility
CU Boulder is committed to providing help information and assistance with campus services for all users, including those with accessibility concerns. Turnitin accessibility considerations, information for content creators, information for faculty and students, alternatives/workarounds, and more can be found on the Turnitin Accessibility page.
A variety of data types are utilized by the University of Colorado in order to facilitate the academic experience and advance the success of the student body. In an effort to promote good digital citizenship, CU Boulder has created a resource for our student and faculty communities to better understand how personal data from our students is used within OIT's services and tools.