Abstract
The iClicker Reef project revisits previous efforts to enhance the CUClickers service: to assess whether the BYOD classroom response system will function efficiently within CU Boulder's infrastructure and provide additional functionality that instructors and students perceive as beneficial to teaching and learning.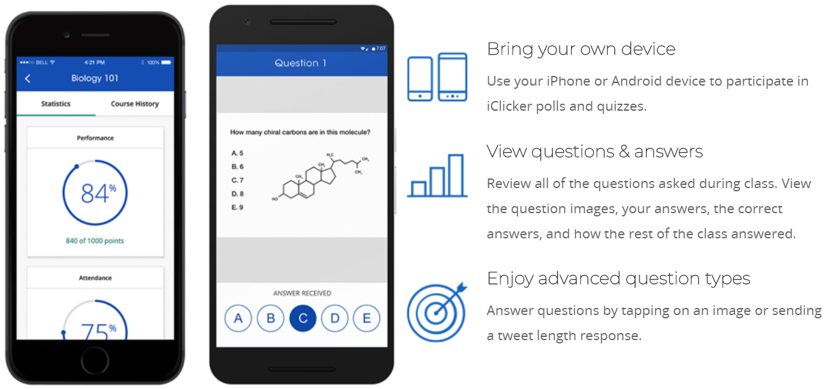 Challenge
CUClickers and the iClicker technology allows students to actively participate in class and answer questions provided by the instructor. OIT's CUClicker service is available in most classrooms and lecture hall media cabinets. iClicker infrastructure is provided as a common-good to the campus. iClicker remotes are available for purchase at the CU Bookstore.
This iClicker Reef project focused on a discovery phase, which included a campus survey, student focus groups, and faculty interviews, to better understand and document their needs and desires for a classroom response system. We conducted a usability study to assess whether CUClickers and the iClicker technology functioned efficiently within CU Boulder's infrastructure, if there was interest from instructors and students for a BYOD classroom response system, and collected feedback from participants as they experimented with the additional functionality available through iClicker Reef. The project also reviewed previous Reef pilot efforts completed on campus.
The Academic Technology Application Program (ATAP) partnered with the Academic Technology Design Team (ATDT) to investigate and analyze the iClicker service to answer the following questions:
What information can be gleaned from the data collected through the iClicker service and previous pilots?
What are the perceptions of instructors and students about using iClickers (among users and non-users)?
What features or functionality do instructors and students use and desire of an audience response service?
What benefits would instructors and students receive by implementing iClicker Reef on campus?
What are the technical requirements to support an iClicker Reef implementation on campus?
What is the cost for instructors, students, and OIT to invest in iClicker Reef?
At the end of this project, we will provide a recommendation report detailing the benefits for campus, a way forward for OIT, and associated rationale for iClicker Classic and Reef. This report will include the development of a communication plan, assessment tools, and an assessment schedule to engage campus in future efforts and grow the CUClicker Service.
Solution
The CUClickers program transition to iClicker Cloud as the main supported audience response service in the Fall semester 2020.
Accomplishments
Cross team collaborations
Invitation to work with WRTG 3035 students
Our ability to iterate on the CU Clicker service processes based on ongoing project findings
Capacity of faculty to test wireless at the tail end of the project
Alignment with Strategic Goals of the University
CU Boulder has been on the leading edge of audience response pedagogy for years. The iClicker mobile device polling software (Reef) would enable instructors and students to conduct polls using mobile devices and enhance review of the questions after class. However, some research has indicated that the use of mobile devices in the classroom has the potential to detract from learning.
Lessons Learned
Areas for improvement:
Campus WiFi capabilities
Estimating the amount of time and effort to

Finalize and distribute a student surveys
Faculty interviews
Corresponding data analysis
Recommendations
Based on the data, our recommendation is to further study:
The reliability of Reef in relation to the wireless connection
The use of focus mode in appeasing concerns about device distraction
Cost options for Reef
Project Team and Partners
Project Team

Rob Leary, CUClickers, PlayPosit and Kubi Service Manager, ATAP
Brad Grabham, Learning Experience Designer, ATDT
Namita Mehta, Learning Experience Designer, ATDT
Lauren Barrett, Learning Data Analyst, ATDT
Mark Gammon, Learning Development and Design Manager, ATDT
Aisha Jackson, Director of Academic Technology Applications and Design
Partners

Michael Williamson, ICT Accessibility Specialist, Accessibility and Usability Lab, Digital Accessibility Office
Greg Stauffer, Sr. Communications & PR Professional, Customer Engagement
Kristin Lueck, Technical Communications Coordinator, Customer Engagement
Rochelle Matthies, Associate Director for Customer Engagement
Lincoln Nkin, IT Security, Office of Integrity, Safety and Compliance
Glenn Rodrigues, Senior Wireless and Mobility Architect, IT Infrastructure and Engineering
Hector Ibuki, Wireless Network Engineer, IT Infrastructure and Engineering
Bryan Melville, Academic Technology Applications Manager, ATAD
Maria Abramowicz, Visual Designer, ATDT
Shane Schwikert, ASSETT Education Technology Researcher, ATDT
Doris Cheung, Learning Experience Designer, ATDT
Seth Hornstein, Senior Instructor, Director of Sommers-Bausch Observatory, Astronomy education research, Department Of Astrophysical And Planetary Sciences
Rolf Norgaard, Associate Director for Upper-Division Curriculum, Professor, Program for Writing and Rhetoric
Andrew Yee, WRTG 3035 Student project team
Luis Mendez, WRTG 3035 Student project team
Lucas Webb, WRTG 3035 Student project team