Microsoft 365 is a cloud-based suite of solutions that includes Exchange Online as the email and calendaring environment, as well as collaborative office applications such as Office Web Apps, Power BI, SharePoint, Teams, and Microsoft Stream.
Microsoft 365 Login & Multi-Factor Authentication
Access your Microsoft 365 online applications with a combination of your IdentiKeyUsername@colorado.edu and IdentiKey password. Please note: only IdentiKeyUsername@colorado.edu will work for accessing Microsoft 365 applications, not the common preferred email address format of first.last@colorado.edu (as shown below).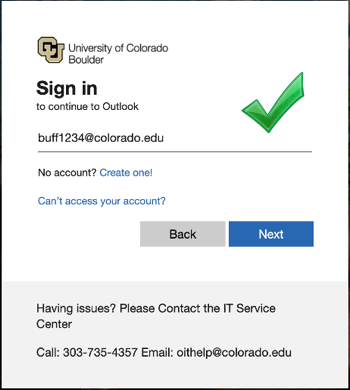 CU Boulder faculty, students, and staff are required to log in to Microsoft 365 using Multi-factor authentication. Multi-factor authentication (MFA) increases account security by requiring multiple forms of verification to prove your identity when signing into an application. Visit OIT's MFA page for more information, set up instructions, and frequently asked questions about MFA.
What applications do I receive?
All faculty, staff, and students (alumni have access to Exchange Online - Outlook on the web) receive the following applications during the initial implementation of Office 365 on the CU Boulder campus:
Benefits
Mobility: Work from virtually anywhere using trusted Office applications across your favorite devices--PCs, Macs, and mobile devices--and seamlessly move and work with your Office documents locally on your device or in the online environment.
Collaboration: Collaborate with teammates, partners, and customers with documents that are always up to date and accessible from almost anywhere.
Communication: Microsoft Teams serves your communication needs, making it easy to see when someone is available, connect via instant message, audio or video calls and host online meetings.
Content Management: SharePoint Online makes it easy to set up and manage online communities, wikis and blogs, make customized forms and create and manage content and documents.
Exchange Online: Access email and calendars on the go and keep everyone in sync with enterprise-grade email and shared calendars. And, move up to 50 GB quotas.
Desktop Software: All current CU Boulder students, and eligible faculty and staff may download the latest versions of Microsoft Office software at no cost.
Who can get it
Affiliation
What apps you receive
Faculty & Staff

Office Online, Microsoft 365 Apps*, One Drive for Business, Power BI, SharePoint, Exchange Online, Microsoft Stream, Teams and To-Do List. 

*Visit the Microsoft 365 Apps page for details of eligibility. 

Students
Exchange Online, Office Online, Microsoft 365 Apps, One Drive for Business, Power BI, SharePoint, Stream, and Teams.
Security
The Office of Information Technology follows CU's Retention of University Records policy APS 2006 to ensure that university records are retained and disposed of in accordance with federal and state laws. Microsoft 365 is in compliance with these standards. For more information visit: