Update
With the pilot deemed a success, Dr. Tracy Jennings continued her efforts to help faculty transition their evening MBA courses to hybrid format. Leeds formally introduced its Hybrid MBA Program in spring 2021.
The highly-ranked Evening MBA Program at Leeds School of Business enables working professionals to pursue a graduate degree, with classes meeting one to two evenings each week for two years. Fitting education into the mix becomes a real challenge for adults juggling a multitude of responsibilities. How might the university offer an equivalent alternative to the evening courses that would better meet the needs of the program's time-constrained, working professional students?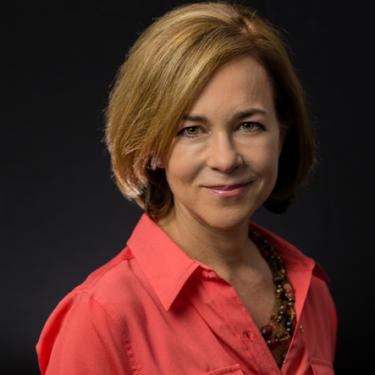 For starters, you could pilot a hybrid program and test the concept, swapping a majority of the in-person contact hours with rich, engaging learning online (while also significantly reducing commute time). This is what Tracy Jennings, Senior Instructor and Teaching Professor serving as the Faculty Director of Distance and Online Programs at the Leeds School of Business, set out to do in summer 2019 with two fellow Leeds instructors, Jay Waddell and Steve Lawrence. 
Tracy already had a couple of massive open online courses (MOOCs) under her belt, but Jay and Steve had never taught online before. They would need direction on transforming their respective courses, New Product Development and International Operations Management, into a hybrid format--8 weeks in duration with three on-campus sessions interspersed--so Tracy called on the Academic Technology Design Team (ATDT) for guidance.
The instructors were enthused about creating highly engaging courses for their students, but they were rightfully concerned this would require more time and effort than they could afford. A 4-month consultation with Doris Cheung, Learning Experience Designer, started with strategic program planning and then transitioned to course content development. Here are the instructors' big takeaways:
Recommendations
Think about the "bigger picture"
The instructors already recognized that pedagogy should drive technology use. Jay and Steve also knew they would need to allocate time for their own learning curves, so they smartly opted to go with select campus-supported technologies. Students would already have easy access to the technologies, and technical support would easily be within reach. Thanks to Viktoriya Oliynyk and Marcus Williams from OIT's Academic Technology Applications Program (ATAP), the instructors were on their way with learning how to incorporate these technologies into teaching and learning.
The instructors were also prompted to think about how their videos might be repurposed in the future. By avoiding references to dates and times or course-specific information, they could "mix and match" the videos for reuse in other courses or use them as refreshers in courses offered later in the curriculum.
Take small steps with UDL
The instructors planned to rely heavily on videos and PowerPoints to deliver content, so the team was introduced to Universal Design for Learning (UDL) to help improve access for students by offering content in multiple formats.
Developing a course with UDL in mind can inform better design (and is easier to do than retroactively), so the team worked together to design a clean, unified look and feel for their materials. This included developing a layout for their videos that is easy to view on various mobile devices and would accommodate closed captions. The team was strongly encouraged to develop scripts for their instructional videos--this would not only make their studio recording sessions more efficient and the videos more succinct, the scripts could be used for closed captions or transcripts. 
Jay received an additional consult from Anna Reid, Academic Accessibility Specialist from the Digital Accessibility Office, who provided a primer on making PowerPoint slides more accessible to students with disabilities. The instructors started with learning about good color, font, and font size choices; contrast checking; using alternative text; and describing on-screen images when recording their videos. 
Get students engaged and set them up for success
The instructors emphasized the importance of student engagement and interaction in their courses, as they relied heavily on case studies and experiential activities. The following approaches, when implemented effectively, can have huge payoffs for instructors and students:
Create a welcoming online environment and sense of community
Set clear expectations
Provide meaningful and timely feedback
Encourage reflection and solicit feedback
Check out these 12 actionable ways to improve student engagement.
Building a Solid Foundation
Throughout this effort, the team's "big picture" thinking and focus on improving student learning helped them make sound decisions. They work amazingly well as a team, communicating with and learning from each other throughout the process. 
The first two courses launched successfully, and 100% of students rated the course the same or better than face-to-face classes in terms of academic rigor, course organization, convenience, and timeliness of feedback. 93% rated the amount learned as the same or better.
Tracy has been working meticulously to launch two more pilot courses for the spring semester. Her wicked project management skills and insights from our consultations are helping her achieve a consistent level of quality in the program and pave the way for instructors following in Jay's and Steve's footsteps.
When asked about her experience working with Doris, Tracy responded, "Doris understands the perspectives and natural hesitations of the faculty. She coached all three of us, gradually helping all of us develop our "online" mindset, while also teaching us how to do the work ourselves. The part she played on the team was priceless."